Bio
Charlie Simpson is a veteran. He's been writing songs and releasing records for almost half his life. He's been a voice and member of three acts, has toured the world, has played everywhere from toilets to Wembley. He's just about to release his eighth album.
Charlie Simpson is 28. Go figure.
And yet: that eighth album sounds like the freshly-formed work of a brand-new artist. It's called Long Road Home, and it is, at last, proper Charlie. The title reflects on the intense highs (and the occasional plummeting lows) he's experienced as guitarist with Busted, frontman with Fightstar, and as a solo artist. And the infectious, summer-come-early song itself – ear marked as a single – sums up his where his ears, and heart, are at…
"It just fit with what I wanted the record to feel like," he says, explaining the song's position at the top of the upbeat 11-song set. "I love harmonies and the whole West Coast Californian feel – so I used them as inspiration to capture the vibe for that track," he adds, while cheerfully acknowledging that this could only ever be his own personal take on the golden age of melodic folk-rock. "I'm harmonising with myself! And that song just makes me happy. It's probably my favourite song on the album, and it is me thinking back about being away from home, touring, on the road, for, like, a decade. Since I was 16," he marvels.
Straight out of school, Charlie joined Busted. His time with the mega-selling, arena-filling boy band overlapped with his next project – Fightstar, a heavy rock trio that plunged Charlie back to his core (and hardcore) tastes. Then, while relentlessly touring Europe with Fightstar, Charlie found himself spending his spare time writing new, different-feeling songs. So in 2011 he piled straight into another musical project: a solo album.
"It was a really apprehensive time for me," he admits now. "I'd been seen in two different lights with two different bands. I felt like there was gonna be a lot of pressure on hearing songs that are just me on my own – something that couldn't help but be a much more personal thing."
Charlie spent a year writing the songs that would form the exquisite Young Pilgrim.
"It was so liberating. I'd spent so much time writing in bands, and with bands everything is a democracy. Well, it was in the bands I was in… So it felt so free to able to just sit in my room on my own with a guitar and piano and write songs. I hadn't done that since I was 12, learning to write songs and making a terrible racket.
"Being able to do what I wanted to do was a great experience, and it meant that a lot of those songs just came so quickly – the single Down Down Down came in 25 minutes!" he smiles. "It was just excitable writing."
And it was literally solo. Aside from producer Danton Supple (Coldplay), and occasional help on drums, Charlie did everything, playing all the instruments and writing/singing all the songs.
"So it was all on me, and it was very nerve-wracking. But then we sent Down Down Down into Radio 1, and Fearne Cotton made it Record Of The Week literally before the campaign even started. And the reactions from my fans, from Fightstar fans, and from those who'd followed me since the Busted days, were amazing. So that was a huge weight off the shoulders."
But then he had to do it all over again. Charlie is the first to admit that the creation of Long Road Home wasn't an easy, well, road. For the first time in all his years of songwriting, he suffered from writers' block. He's still unsure what happened. Was it the fact that, after a decade's dogged playing and performing, he finally took his foot off the pedal and took some long-overdue him-time? Or did he give too much to Young Pilgrim? As he says now, "it was almost like I'd just thrown everything out and spilled my guts for that first solo record".
So he took time off, partly in Kenya (from where his fiancé comes) and partly at home in London. By early 2013 he was revitalised.
"I came back home pretty drunk one night and I started recording this song. I don't really remember it," he admits. "But I woke up in the morning and was like, wow, that's really good."
The song was Emily, an acoustic, high-harmony love-letter that Bon Iver would kill for. And that," nods Charlie, "slowly eased me back into it." He wrote eight songs, then went into Reel World Studios near Bath with Steve Osborne. He was his dream producer, once best known as a dance man but, more importantly for Charlie, the producer behind two of his favourite albums: Placebo's Without You I'm Nothing and Vheissu by Thrice. "They're a bit Deftones. It's like the OK Computer of the heavy rock world."
Osborne helped Charlie realise the soundscape in his head, which was partly influenced by American singer-songwriter Ray Lamontagne (who won the Grammy for Best Contemporary Folk album in 2010). "It's where you just hear everything in the room. And Steve told me that the only way I was gonna get that was to play live in the studio."
Calling in his touring band, Charlie took to the plan with relish. After two weeks playing and coming to grips with the songs in a west London studio, they had productive, balls-of-the-feet, let's-make-the-record-right-here sessions in Reel World and Monnow Valley in Wales. The songs Winter Hymns (Nick Drake-like simplicity, intimacy and strings-led beauty) and Blood (anthemic, pounding, impassioned) are ear-tingling examples of the feeling, the sensation, that Charlie pursued with relish.
He was so deep in the recording that he missed the hoo-ha surrounding the announcement of the formation of McBusted – a mash-up of Busted and McFly. Was he asked to rejoin his former bandmates for the hot-ticket (re)union?
"I was never directly asked 'cause I think they knew what the answer would be," he says without rancour. "But we did discuss it before it was announced. That was the first time I'd seen Matt and James in quite a long time. And it actually was a nice thing to happen – I feel like we're on much better terms than I have been for the last ten years."
Still, saying no was a no-brainer.
"Busted is a decade in my past and although I still feel it is partly my band, I was totally immersed in the studio, so my priority was to stay focussed on my solo career and deliver a worthy second album."
Still, he wasn't going to rush it. Charlie paused the recording last summer while he took to the road on the Vans Warped Tour. He played alongside Bring Me The Horizon, While She Sleeps and Architects. He was on the acoustic stage, but he made as much noise as he could, day and night… "It was something I'd always wanted to do, and it was everything I wanted and more. But it was pretty gruelling – 28 states in 30 days, on a bus with 12 other blokes!"
Back in the UK, Charlie took time to write the soundtrack to a British indie film, black comedy Everyone's Going To Die (another soundtrack project follows this year). Then, last autumn he hooked up with songwriter Nick Atkinson (Saint Raymond, Gabrielle Aplin). The collaboration resulted in both the punchy Haunted, a song that showcases Charlie's soulful rasp and the first fully released single from Long Road Home, and the country-rock drive of the irresistible Comets.
Charlie's long road home was over. He'd arrived at the album he wanted to make. It had taken some time, and some detours, and lots of sweat. Was it worth it?
"This was the hardest record I've ever had to make, no question," he admits. "There were points where I was like, am I going end up with an album that I really love here? And that makes it feel all the sweeter now that I've come out with something I'm proud of. I love the album more because of all that. I feel like it was an album I had to fight for."
You might say it had to be that way. Making the Long Road Home couldn't – shouldn't – be a straightforward journey.
"All my musical experiences are in this album," Charlie Simpson reflects. "People often ask me, do I regret doing Busted in the first place? No f*cking way! I would never say that; that would be a stupid thing to say. My life experience has taken me to this point, where I've written an album I'm very proud of and happy with. I love what I do. How could I ever take something away from my musical past? If I did, I might not have been led to this point.
"This album is, finally, the person I am," the young veteran concludes. "I'm a lot more settled and comfortable. And that's a good thing."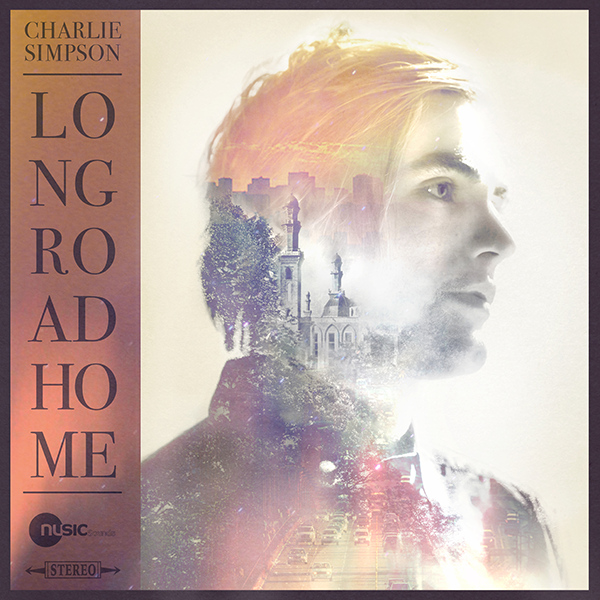 Management
Craig Jennings
Tristan Lillingston
Press
Lisa Birch, Amelia O'Shea and Holly Appleton, Dawbell