Mallory Knox, like their Natural Born Killers namesake, are on the rampage. Wrestling free of the restraints that bound them over the first two albums – inexperience, self-doubt, a restricting reverence to their heroes and a reputation as rock's latest nice guys – they're laying bare their souls, kicking at their boundaries, savaging their sound and expanding their worldview. And becoming, in the process, the vital voice of the modern rock generation; damaged, informed, driven, torn between happiness and hedonism and utterly, utterly wired.
"Our old sound doesn't represent what we get out of music or what we were putting into those songs," says guitarist Joe Savins. "We're proud of the songs but the way we delivered them maybe had the reins on. Now it feels completely free."
"When you're younger you try to emulate your heroes," adds singer Mikey Chapman. "We wanted to stick within the lines because within the lines was the stuff we knew and loved. But we're getting to a level of maturity now, or a realisation of 'I don't give a fuck', If all you do is trickle along for your entire career and do nothing to challenge or try to reinvigorate the thing you're a part of, what are you doing?"
Of course, Mallory Knox have done anything but trickle along until now. They've been a band of maximum impact since their very earliest incarnations. Bassist and songwriter Sam Douglas, for example, has created a (possibly false) memory of writing his first song, 'Thinking Of You', the day after his father left home on his thirteenth birthday – "he heard it and burst into tears", enough of a reaction to make song-writing Sam's primary form of solitary expression throughout his troubled teens, writing a song a week for four years as "an act of rebellion… my little getaway".
At the same time, drama-loving Mikey ("maybe I like people looking at me"), Joe and guitarist James Gillett were busy trying to turn the cultural vacuum of their various village communities dotted around Cambridgeshire into the epicentre of a new UK rock scene. "The lack of something to do points a lot of people in directions that are unhealthy for you," Mikey argues, "causing trouble and things like that, but for us it gave us an excuse to be creative in order to step away from that nothingness."
After a few months of adjusting to the less poppy new regime of their old bands, they professionally recorded their first two songs ("it was all we could afford"), put the expansive 'Q.O.D.' online and, almost instantly, Knox shot from the blocks. Local pub shows were suddenly packed. James begged to join in 2010. An email arrived from Stuart Gili-Ross from Gallows offering to manage them ("I thought it was spam," Sam admits), and Stuart helped them record a further three tracks and self-release the five-track 'Pilot' EP as a free download in July 2011, headed by grunge noir early favourite 'Oceans'. The very first person to download the EP was Ian Dickinson from Wolf At Your Door records. And so began one of the longest overnight success stories in living memory.
Home to Deaf Havana and Lower Than Atlantis, Wolf At Your Door were the dream label for Mallory. "That was the coolest thing ever," Sam remembers. "Me and Mikey were working on a building site when they announced it, literally knocking down a wall." But having written their debut album 'Signals' over the latter half of 2011 and recorded it in three weeks in January 2012 in a tiny room above a paper factory while sleeping five to a room in a friend's studio flat, the album was delayed for a long, frustrating year.
"There was a genuine concern, I didn't think we were gonna release that album at one point," Sam says. But in the background, vital cogs were whirring. The band built a solid fanbase on the club circuit and learnt their stagecraft from touring with Stuart's "intimidating" hardcore bands, becoming a melodic rock band with a hardcore punk intensity, "we'd go crazy onstage, for a band of our type". Their buzz reached Radio One, and when it was finally released in January 2013, 'Signals' hit Number 33, seemingly from nowhere, taking the music industry by storm. Within 24 hours every major A&R wolf was at their door. "Our album's been out a day and everyone's swimming around us like sharks," Sam grins. "It was an exciting time."
Signing with Epic, they threw themselves into their year as alt-rock's big new things, revelling in the avid rock press hype, touring to "insane crowds" and playing with Biffy Clyro and Don Broco as well as the prized opening main stage slot at Reading & Leeds to a crowd of 40,000. "The crowd cheer was another level, it went through you," Mikey says.
A wild ride, but also a turbulent one. As their career took off, their home relationships broke down. "A few of us broke up with our girlfriends," Sam explains. "I lost myself and had to find myself again. All of a sudden you have everything you've ever wanted and almost overdo it and go 'oh shit, I've gone too far, I need to step back, I'm drinking too much or having strains with my relationship because I'm away all the time'."
"You don't see all this coming," says James. "We were set, full-time jobs, girlfriends, the lot, that was your life. So for this to come in, as great as it is, everything gets shaken up and you have to pick up the pieces."
"It's the two biggest aspects of what you hope to achieve in your lifetime," Mikey adds, "a loving relationship family framework that was maybe just beginning to form for some of us, and then a successful, satisfying career. For a lot of people they grow separate from each other, but in that time the two were smashing together and the fallout from that was the content of 'Asymmetry'."
If 'Signals' classic such as '1949' were based on fictional situations because "we were nineteen, we didn't have anything to say", 2014's second album 'Asymmetry' was Mallory's step into the semi-autobiographical. Mingling a budding socio-political nous on 'Dying To Survive' and 'Fire' with personal tribulations on the likes of 'Getaway', 'Heart & Desire' and 'Dare You', it showed the first signs of the real Mallory Knox emerging – as troubled as they were triumphant. "It wasn't until we finished recording 'Asymmetry' and heard the songs we went 'this is actually quite a sad album'," Sam says. "It wasn't meant to be, we were having the time of our lives."
Hitting Number 16 in the UK Top 20, 'Asymmetry' was a whirlwind wonder of a record, not least because, with only a week to go before the end of recording at Bath Moles studio with the legendary Gil Norton, the whole thing very nearly went up in smoke when the studio burned to the ground.
Fighting fire with fire, Mallory tore up Europe and America for eighteen months, playing to 5000 people every night on the World Tour with Pierce The Veil and Sleeping With Sirens, stealing the Vans Warped tour and rounding off the cycle at their own headline show at London's Roundhouse on October 2015. "To put music out there about you is very nerve-wracking," says Mikey, "it was a poignant moment, you could be a bit more open and honest and it can still be received fantastically. That record for me was 'I can't wait to see what we do next'."
What they did next was find themselves. Writing and demoing in their rehearsal lock-up from November, they found themselves writing songs that captured their raw-boned live energy, exploded their sound to arena dimensions – check out the supersonic 'California' – and had an irrepressible groove. "'Asymmetry' was a diagonal side-step from 'Signals'," says Sam, "whereas this is a complete step forward. It felt like a brand new band again."
Recorded over four weeks in July and August 2016 with producer Dan Austin in the old chapel live room at the 26-acre stately home Vada Studios in England. The end result, 'Wired', is amongst the most hard-hitting, melodically euphoric, outspoken and open-hearted albums in modern rock.
"With the content, you'd do what the song subconsciously described to you," Mikey claims, and these irrepressible tunes spoke to him and co-lyricist Sam of hedonism fatigue, medication, depression, religious delusion and the dark side of social media, making 'Wired' one of this generation's most honest and insightful portraits of the struggles of 21st century youth. There are songs about the joys of sex and night driving ("but not at the same time") and crazy nights out, but also the flipside; 'Running Wild' finds them tiring of the expectations of the hard-living rock'n'roll cliché the music industry encourages. "Is it a case of choosing the debaucherous music do-what-the-fuck-you-like lifestyle or is it the tone-it-down, wind-it-in, grow-the-fuck-up and work on your family life side of things?" Mikey muses. "Or is it as clear cut as that? Can you merge the two things together to make this single entity?"
'Wired' is defined by such psychological clashes. Relationships are often fragile fantasies they're too insecure, self-destructive or away from home too much to ever make work. "Sometimes the biggest part is the realisation that you are fucked up," Mikey says, "and you do need to sort yourself out if you're ever going to find a pathway to happiness, that leads you away from the vices that deafen you daily."
Sam even refers to love as a "demon" on Biffy-esque slow-burner 'Falling In Love', tormenting him as a romantic lost cause, and the ironic chorus of snake-hipped melodic highlight 'Citalopram' – "my Citalopram will pull me through" – directly tackles the underlying root of these issues, inspired by a doctor brushing Sam's problems off with a prescription for the titular anti-depressant.
"There's no real care to it," Mikey says. "If someone falls down and breaks their leg you don't say 'get up, dust yourself off, positive mental outlook, stiff upper lip'. It doesn't work like that, it's an ailment, an illness. Just because you can't fix it up with a bandage doesn't mean it doesn't exist. It's just 'hello Mr Douglas, you're feeling anxious? Here you go, that'll be eight pounds a week for the rest of your life, unless you decide to lose your mind and we'll stick you in an asylum'. It's a quick fix to something that isn't a quick fix, we need the understand and research and development to cure people of it because at the moment we're just masking it."
Depression was an issue burning at the heart of Mallory Knox. "A couple of us have had things, underlying, for a long time," Mikey continues, "and it's taken this step-up and the maturity to realise that that has been the demon under the surface the whole time and to say his name and draw him out in order to address it. It's something we have to tackle, not for the benefit of anyone else but for the honesty and where it begins to lead you. You feel like you're on an island – you know other people are going through it but there's no connection. So if that being out there in the musical world can help people in some way get over it, that's fantastic."
Sam considers social media a contributor to the wider malaise. "There's so much pressure, people get depressed, like 'other people's lives are so much better'. No-one posts 'I'm at home, drinking on my own'. There's this fake reality with people making this world to make themselves feel better and someone that's not feeling that great will go 'I wish I was like this person'. 'Citalopram' says 'I'm struggling, I went through this, it's alright to feel shit'."
Mikey's social media posts, meanwhile, have seen him emerging as an astute new voice on issues such as global warming, political corruption and social justice. They're echoed here in the atmospheric 'Saviour', an atheistic diatribe on the impotence of religion in solving the world's problems and how we need a species-wide revolution of the mind instead. "We're coming out of the echoes of the era when religion consumed everything," Mikey explains. "It was part of everyone's minds and society as a framework. We're still living in that mindset of 'if it gets bad enough, someone will come along and it'll get sorted'. God is not coming, there is no higher power, there isn't someone with all the answers who is going to come along and fix the issues going on, we have the option to do that. Let's stop putting so much emphasis on the destruction of societies and civilisations and put more effort, money and empathy into getting something that may be achieved in a hundred years time achieved in fifty years time, or twenty-five. That's an achievement that will echo throughout time. All we're actually doing is making the future, for each and every person, far more unstable than it seemingly ever has been before, because of our need for individual gain."
Mallory's own future, though, seems impossibly bright. 'Wired' is one of those breakthrough albums, a band fulfilling every ounce of their potential, on the cusp of gigantic things. "If it's received as we wrote it to be received," Mikey grins, "the sky's the limit."
Plug in, get wired.
Mark Beaumont, October 2016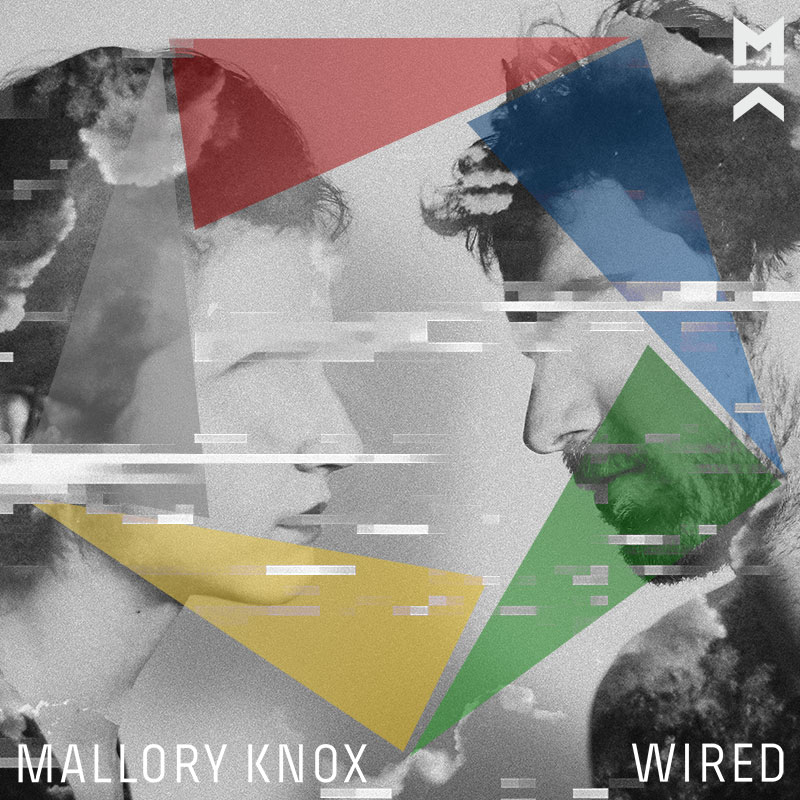 Management
Craig Jennings
Matt Ash
Stuart Gili-Ross
Mitchell Thomas
Press
Sarah Maynard, Major Transmission (UK)
Radio
Hayley Codd (Public City PR) (UK)
Live
Geoff Meall, Coda Agency (ROW)
Dave Shapiro, United Talent Agency (North America)